Cracker Barrel's Coca-Cola Cake is a decadent dessert that combines the rich, chocolatey goodness of cake with the timeless, fizzy taste of Coca-Cola. With its unique and flavorful twist on the classic chocolate cake recipe, this dessert is sure to be a hit with chocolate lovers and Coca-Cola enthusiasts alike.
According to Insanely Good Recipes, the cake is made by preheating the oven and preparing a 13×9 cake pan. The ingredients for the cake include cocoa, powdered sugar, and vanilla extract. The cake batter is made by boiling butter, Coca-Cola, vegetable oil, and unsweetened cocoa and stir in the sugar and flour.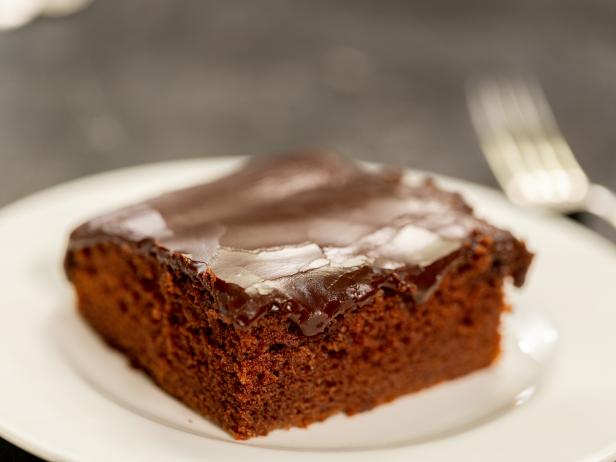 While according to Food.Com, the cake is made by bringing Coca-Cola, oil, margarine, and cocoa to a boil, mixing in sugar, flour, and salt, and then adding eggs, buttermilk, soda, and vanilla to create the cake batter.
Whether you follow one of these recipes or create your own unique twist on the classic, Cracker Barrel's Coca-Cola Cake is sure to be a delicious and indulgent dessert that everyone will love!
Cake Ingredients
4 ounces butter
1 cup Coca Cola
1 ounce baking chocolate 1 square
3/4 cup miniature marshmallows
1/2 cup shortening
1/2 cup vegetable oil
2 cups sugar
2 eggs
2 teaspoons vanilla
3/4 cup buttermilk
2 1/3 cup all purpose flour
1 teaspoon baking soda
1 1/2 teaspoons baking powder
1/2 teaspoon salt
3/4 cup cocoa
Frosting Ingredients
1/4 pound butter
3 tablespoons cocoa
1 pound powdered sugar
6 tablespoons heavy cream
1 teaspoon vanilla extract
Instructions
Preheat the oven to 350 degrees. Place in a saucepan butter, coke, semi-sweet baking square and bring to a boil remove from heat and add marshmallows and stir until all is blended and the marshmallows are disappear. Set aside to cool enough to tepid or room temperature. 
In a mixing bowl blend the shortening, oil, vanilla, and sugar until fluffy. Add eggs and buttermilk and beat until smooth. In another bowl mix flour with baking soda, cocoa, baking powder and salt, add half of the flour mixture to shortening, egg mixture, and beat.
Scrape bowl time to time to clean the sides off so ingredients are blended in the batter. Add cooled coca-cola mixture and beat. Add remainder of flour and beat until completely smooth about 3 – 4 minutes.
The batter will be thick. Place batter into a 13″ x 9″ x " 2 greased and floured baking pan. Set pan on top shelf in a preheated 350 degrees oven for 35 – 40 minutes.
Check for completed baking time with a toothpick. If the toothpick comes out clean by sticking in the middle of the cake its time to come out of the oven and cool.
Frosting In a bowl cream together margarine, cocoa, and powdered sugar. Slowly add the 6 tablespoons of cream or milk. Add in vanilla. Frost warm cake. Serve with natural vanilla bean ice cream and enjoy.
Here are some tips for making Cracker Barrel Coca-Cola Cake:
Freeze your buttermilk: If you don't think you'll use the entire carton of buttermilk before it spoils, freeze it in ice cube trays and store it in a freezer bag. This way, you'll have individual portions of buttermilk that are ready to use whenever you need them.
Check for doneness: Use a toothpick to check if the cake is fully baked. If the toothpick comes out clean, the cake is ready to be removed from the oven.
Reuse the frosting: The delicious chocolate fudge frosting can also be used for other cakes and cupcakes.
Add some crunch: If you love the taste of pecans, consider adding 1 1/2 cups of chopped pecans to the frosting recipe.
Perfect for celebrations: This cake is perfect for birthdays, potlucks, and holiday gatherings. Your family and friends are sure to fall in love with it, just as your family has!
Other Cakes You May Consider
Similar cakes to the Cracker Barrel Coca-Cola Cake would be other chocolate cakes with similar ingredients and preparation methods, such as chocolate cakes with a fudge frosting, or cakes made with Coca-Cola as an ingredient. Other examples might include:
Texas Sheet Cake
German Chocolate Cake
Devil's Food Cake
Dark Chocolate Cake
Chocolate Fudge Cake
It is important to note that while these cakes may have similar ingredients, they may have different ratios, preparation methods, and additional ingredients, resulting in unique flavors and textures.