There have been many times when I need a really great, show stopping dinner. However, I don't always have the  time or energy to spend hours in the kitchen, cooking, and planning. 
Luckily, I know quite a few, super impressive dinner recipes that are surprisingly easy to make.
I wanted to share my favorite, stunning dinner recipes that anyone can make. 
They are all quick, tasty, and sure to make everyone run to the dinner table. 
This delicious whole grain pizza is made in under twenty minutes. It is faster to make this healthy pizza than it is to order a pizza! And, it is much more impressive to serve your guests homemade pizza than a lesser, take out version.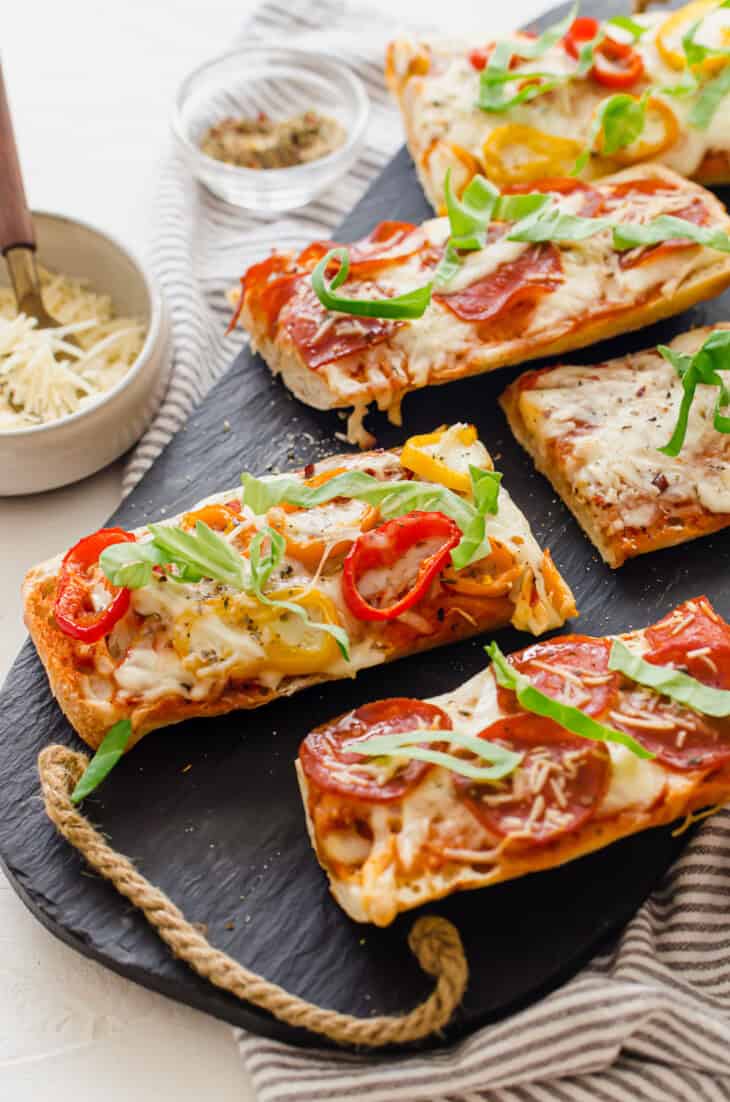 All you need to make whole grain pizza bread is two baguettes, some pizza sauce, cheese and pizza toppings. The baguettes are cut in half lengthwise and then the sauce is spread over the top. Add your favorite pizza toppings and the shredded cheese and bake until the cheese is bubbling and browned.

I especially love to make pizza bread because you can easily customize the dinner to suit everyone's personal preferences. Each pizza can easily be made with different toppings giving everyone at the table exactly what they want. 
These southwestern chicken tenders are so flavorful that you won't believe you made them at home. They taste like a chicken dish served at a fancy restaurant. It is just hard to believe you can make chicken with this much flavor in less than 20 minutes.
The chicken tenders are marinated in oil, apple cider vinegar and a blend of seasonings.
It is a good idea to let the chicken sit overnight in the marinade, if possible. This will let the flavor soak deep into the chicken. You will go crazy for the zesty, potent taste of these quick chicken tenders. 
Anytime I need a fancy dessert in a hurry, I make this fantasy fudge. It is the creamiest, richest fudge I have ever tried and everyone who takes a bite adores it. And, not only does it taste amazing, but you can whip up 40 pieces of fudge in just 10 minutes. 
Fantasy fudge is made with sugar, margarine, evaporated milk, chocolate and marshmallow cream. The mix is baked in the microwave so you don't even need to turn on your oven! Perfect, bakery style fudge is just mere minutes away. 
Soup is very often underrated as a meal when in fact it is quite delicious, easy and filling. This cuban lentil soup is one of the best soup recipes I have ever tried and it is also very impressive.
While the ingredient list for the soup may look long, it is actually full of things you likely have in your pantry already. 
Garlic, pepper, oregano, carrots and green peppers are just a handful of things that add an abundance of flavor to the soup. Add in two types of potatoes and you have yourself a full, amazing meal. 
Cowboy chili is true comfort food. It will warm your belly and your soul. Luckily, you can easily make something this incredible and soothing in just minutes. 
Tender, juicy ground beef is mixed with chopped onions, stewed tomatoes, beef broth and lots of seasonings.
Of course the chili has tons of beans that are healthy and tasty. All you really need to do to make this chili is measure, stir and simmer. And anyone can do that! 
This cedar plank salmon recipe may be the fanciest dish on my list. However, it is also one of the easiest ones to make! It all starts with cedar grilling planks that are soaked in water, greased and ready for the grill. 
Cooking the salmon on the cedar gives it a smokey flavor that is unmatched. The brown sugar, paprika and pepper seasoning rub adds to that flavor and takes this salmon to a whole new level.
Give it a try and you will feel like you are in a five star restaurant after just one bite. 
I love this veggie frittata as an exciting dinner recipe but it is also incredible for breakfast or even for lunch. I also really like that the frittata recipe makes enough to serve six people. Oh, and one more amazing point- everything cooks in one pan!
The egg frittata is made with garlic, green onions, mushrooms, tomatoes and cheese.
Cilantro, parsley and fennel adds a wonderful seasoning that takes this frittata to the next level. Follow this easy recipe and your meal will be restaurant worthy. 
Why go to a fancy Italian restaurant when you can easily make this creamy tuscan recipe at home? I promise you that it really is easy. And, it is also low carb which makes this a healthier dinner option.
Start by searing the chicken in a hot skillet then add some garlic, sun dried tomatoes and dijon mustard.
The cream can then be whisked in along with some salt, pepper and herbs. Spinach and cheese are the final additions and then your creamy Tuscan style chicken is ready to eat! 
This is one of my go-to chicken recipes that everyone adores. The creamy, buttery, lemon sauce coats the chicken beautifully, adding lots of flavor to every bite.
The chicken also goes really well with all kinds of side dishes so you can pair it with almost anything!
Be sure to add those thin lemon slices to the chicken which make it look especially impressive. The bright yellow lemons and pop of green herbs looks as good on the plate as it tastes. 
Indian style butter chicken is truly a show stopping dish. There is so much flavor in every bite but, the secret is, that anyone can make this meal. 
I love the creamy yogurt sauce that is seasoned with garam masala, fenugreek, turmeric and paprika.
The chicken is so tender and perfectly cooked that it just melts in your mouth. Every chef needs to give this recipe a try and really spice up the dinner menu. You will be happy you did! 
I hope these impressive recipes make an appearance on your table soon. They will definitely liven up your meal time and they won't take you too long to make. Be sure to let me know which are your favorites!